Industrial production power on your desktop
The Ultimaker S5 Pro Bundle transforms your 3D printing workflow – with automatic material handling, efficient air filtering, and filament humidity control. Together, these features unlock 24/7 productivity and demanding applications with an extended range of materials.
The Ultimaker S5 Pro Bundle is made up of three breakthrough devices:
Ultimaker S5 – the award-winning, composite-ready dual extrusion FFF 3D printer

Material Station – a 6-spool pre-feeder with humidity control that automatically switches between materials

Air Manager – a top enclosure with a material-matching adaptive EPA filter
Important Note: Be sure to update the firmware on your Ultimaker S5 to the latest available version before installing the Air Manager and Material Station.
---
Introducing the Ultimaker S5 Pro Bundle
| | | |
| --- | --- | --- |
| | | |
| | | |
| Best-in-class desktop printer specs meets the ease-of-use that comes with a complete 3D printing solution trusted by hundreds of thousands of professionals worldwide. | The Ultimaker S5 Air Manager ensures a safer working environment with even more materials. Its closed, inside-out airflow catches, traps, or diffuses up to 95% of UFPs. | The Ultimaker S5 Material Station redefines material handling. No more DIY dry boxes, less time spent operating the printer. Just unrivaled desktop production efficiency. |
---
Seamlessly integrating the Ultimaker S5 printer with the Air Manager and Material Station, the Ultimaker S5 Pro Bundle boosts productivity, flexibility, and confidence to unlock demanding applications with an extended range of materials.
- Fast and easy front-loading of up to six filaments
- Uninterrupted printing with automatic material switching
- Humidity-controlled material storage
- Compatible with third-party filaments, including composites
- Enclosed build chamber and EPA filter remove up to 95% of ultrafine particles (UFPs)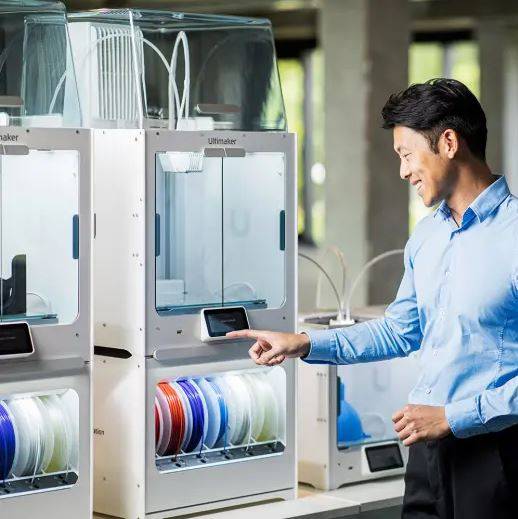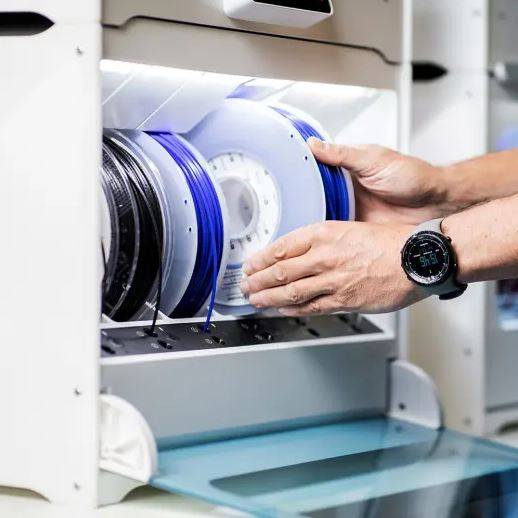 With the Ultimaker S5 Pro Bundle you can load Ultimaker filament spools in any of its six bays, in any order – with NFC recognition.
That's over 28 million material and color combinations to suit your applications and your workflow. Add in third-party materials and the options are limitless.
If filament runs out or you start a new print that needs a different material, the Material Station automatically switches to the next spool, as long as it is loaded in one of the bays.
The Material Station and Air Manager empower the Ultimaker S5 to deliver high-quality 3D printed parts and models at maximum output.
Together, the Ultimaker S5 Pro Bundle's huge capacity and end-to-end material handling increases print success rate and uptime to 24/7 reliable production – while minimizing human error, print job time, and operator time.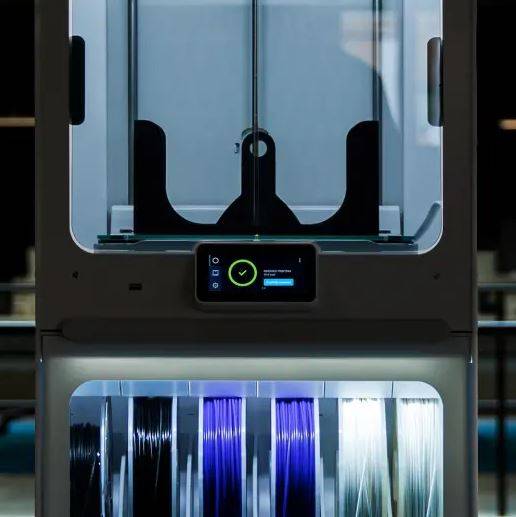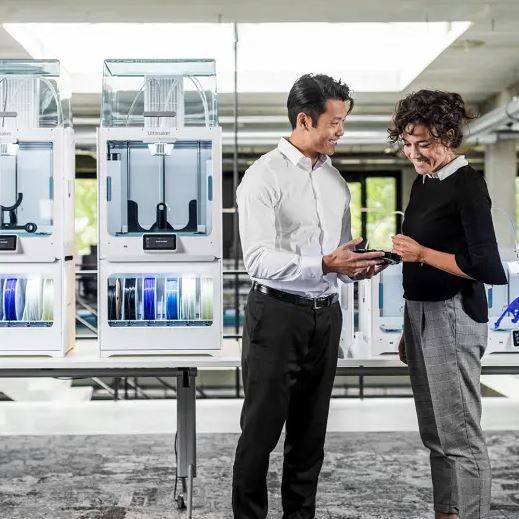 The Ultimaker S5 Pro Bundle takes an award-winning 3D printer that's trusted by the world's leading businesses...and makes it even more powerful and more reliable.
Designed for a safer work environment and unattended use, its enclosed build chamber and EPA filter remove up to 95% of UFP emissions. So you can leave this production workhorse to do its job while you focus on yours.
The Ultimaker S5 Pro Bundle comes with one more powerful component you can't see – free, intuitive Ultimaker software. This includes:
- Ultimaker Cura manages fan settings for each material so you don't have to
- Ultimaker Connect queues print jobs to maximize productivity from your desktop
- Ultimaker Cloud enables secure team collaboration and 3D printing from anywhere in the world
- Ultimaker Marketplace allows easy use of third-party filaments, for widest range of engineering 3D printing materials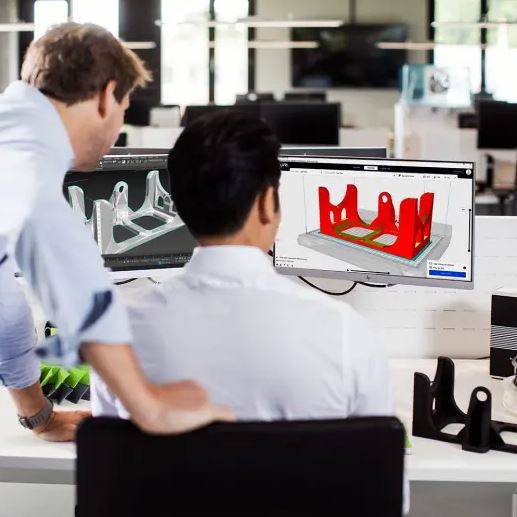 ---
330 x 240 x 300 mm
(13 x 9.4 x 11.8 inches)

495 x 500 x 1197 mm
(19.5 x 19.5 x 47.1 inches)


Fused filament fabrication (FFF)

0.25 mm nozzle: 150 - 60 micron
0.4 mm nozzle: 200 - 20 micron
0.6 mm nozzle: 300 - 20 micron
0.8 mm nozzle: 600 - 20 micron


Dual-geared feeder, reinforced for composite materials

4.7-inch (11.9 cm) color touchscreen

Dual extrusion print head with an auto-nozzle lifting system and swappable print cores

0.25 mm, 0.4 mm, 0.6 mm, 0.8 mm

1 - 50 m³/h (35 m³/h nominal rate for most materials at 23 °C)

Compatible Filament Diameter

50 - 70 mm (2 - 2.7 in)
Diameter: 197 - 203 mm (7.8 - 8 in)
Core diameter: > 98 mm (3.8 in)


Operating Ambient Conditions

15 - 30 °C (59 - 86 °F), up to 70% relative humidity

Non-Operating Temperature

Ultimaker Cura – print preparation software
Ultimaker Connect – printer management software


MacOS, Windows, and Linux

SolidWorks, Siemens NX, Autodesk Inventor

Ultimaker Cura: STL, OBJ, X3D, 3MF, BMP, GIF, JPG, PNG
Printable formats: G, GCODE, GCODE.gz, UFP


Training is available online or via our dedicated network of local service partners (recommended).

Market-leading technical support via email, phone, or from our global community is available to you in your language and timezone.

Online resources, extensive manuals (in multiple languages), material technical and safety data sheets (in multiple languages), a detailed knowledge base, and much more.