Home
/
Ultimaker S3 3D Printer
Massive performance, impressively small footprint
---
The Ultimaker S3 is a complete production system you can depend on in the office or studio. With advanced features to ensure a reliable printing experience, it's still simple to use thanks to its award-winning touch interface and seamless software integration.
Dual extrusion with a build volume of 230 x 190 x 200 mm (9 x 7.4 x 7.9 inches)
Down to 20 micron (0.001 inch) layer resolution
Open filament system, compatible with glass and carbon fiber composites
Dual filament flow sensors notify you if material runs out
4.7-inch touchscreen interface – Winner of iF Design Award 2019
---
The Ultimaker S3 features next-generation reliability. Its advanced active leveling, stiffer build platform, heated build plate, and more accurate stepper drivers result in the highest print quality of a machine in this form factor. And dual filament flow sensors notify you if you run out of material.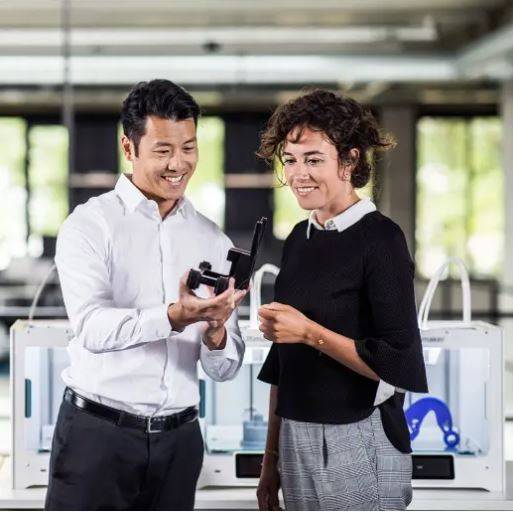 ---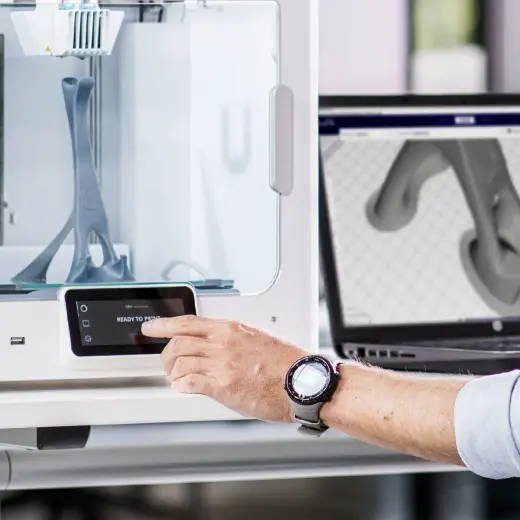 The Ultimaker S3 was designed so that anyone can achieve high-quality results after a 30-minute introduction. Its award-winning touch interface, quick-swap print cores, and predefined print settings enable rapid changeovers and reduce operator time needed.
---
---
---
230 x 190 x 200 mm
(9 x 7.4 . 7.9 inches)


394 x 489 x 637 mm
(15.5 x 19.3 x 25.1 inches)


Fused filament fabrication (FFF)

100 - 240 VAC, 50 - 60 Hz

0.25 mm nozzle: 150 - 60 micron
0.4 mm nozzle: 200 - 20 micron
0.6 mm nozzle: 300 - 20 micron
0.8 mm nozzle: 600 - 20 micron


Dual-geared feeder, reinforced for composite materials

4.7-inch (11.9 cm) color touchscreen

Dual extrusion print head with an auto-nozzle lifting system and swappable print cores

 0.25 mm, 0.4 mm, 0.6 mm, 0.8 mm

20 - 140 °C heated glass build plate

< 4 minutes (from 20 to 60 °C)

Operating Ambient Temperature 

Non-Operating Temperature

Ultimaker Cura – print preparation software
Ultimaker Connect - printer management software


MacOS, Windows, and Linux

SolidWorks, Siemens NX, Autodesk Inventor

Ultimaker Cura: STL, OBJ, X3D, 3MF, BMP, GIF, JPG, PNG
Printable formats: G, GCODE, GCODE.gz, UFP

Expert technical support via email, phone, or from our global community is available to you for the lifetime of your printer.

 Online resources, extensive manuals (in multiple languages), material technical and safety data sheets (in multiple languages), a detailed knowledge base, and much more.