Delivering accuracy and consistency
The Ultimaker 3 is the most reliable dual extrusion 3D printer available. With it you can achieve complex designs and improved 3D print performance. It features a unique auto-nozzle lifting system, professional build and support material combinations, and swappable print cores.
The Ultimaker 3 delivers an incredibly reliable 3D printing experience. Its market-leading dual extrusion system, automatic build plate leveling, NFC spool recognition, and hot-swappable print cores make it easy to 3D print complex geometries with high uptime and repeatability.
- Dual extrusion build volume: up to 197 x 215 x 300 mm (7.8 x 8.5 x 11.8 inches)
- Up to 20 micron (0.001 inch) layer resolution
- Up to 280 °C nozzle temperature
- Open filament system – print with any 2.85 mm material
- Award-winning performance according to 3D Hubs, All3DP, Tom's Guide, and more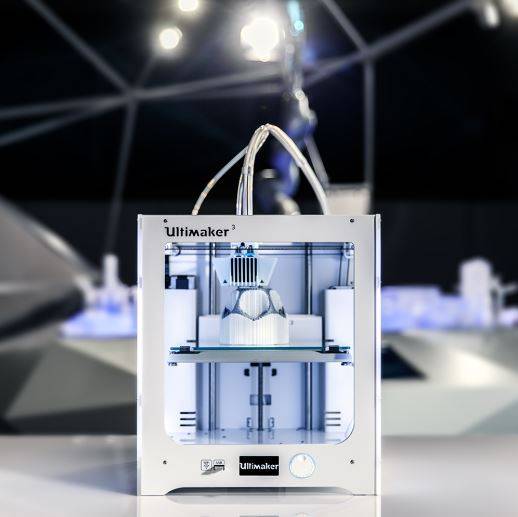 Deep integration with your workflow
Wi-Fi, LAN, and NFC connectivity means the Ultimaker 3 fits seamlessly into your workflow:
- The 3D printer automatically recognizes which materials and print cores are loaded and communicates the setup to Ultimaker Cura
- Our free slicing software then loads optimized, predefined print settings for those materials (hundreds more tested profiles are available from the Ultimaker Marketplace)
- This makes it possible to go from CAD to starting a print in a few clicks
- Then track print progress via Ultimaker Connect and printer's built-in camera
Market-leading dual extrusion
Combine build materials with water-soluble support to create complex mechanical parts and intricate surfaces – or choose to print with two colors. Ultimaker 3 has a unique auto nozzle-lifting system that ensures a smooth, professional finish with every print, giving you complete design freedom.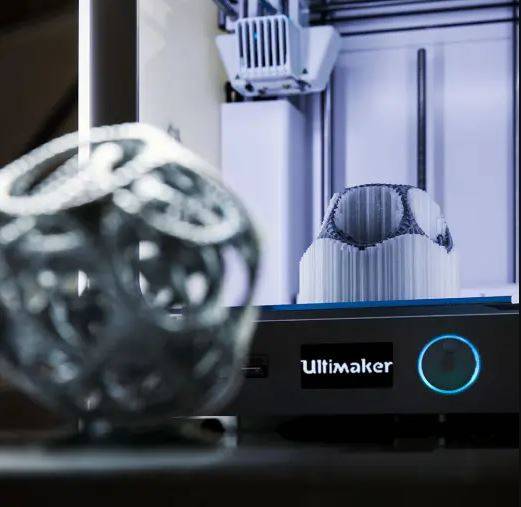 Hot-swappable print cores
Quicker print core changes mean higher uptime and easier material switching. The Ultimaker 3 ships with two 0.4 mm AA print cores for build materials and Ultimaker Breakaway, and one 0.4 mm BB print core for water-soluble Ultimaker PVA. These are automatically recognized by your printer and in Ultimaker Cura. They feature LED lights to clearly alert you if any interaction is needed.
Other AA print cores are also available:
- 0.25 mm for detailed prints
- 0.8 mm for faster prints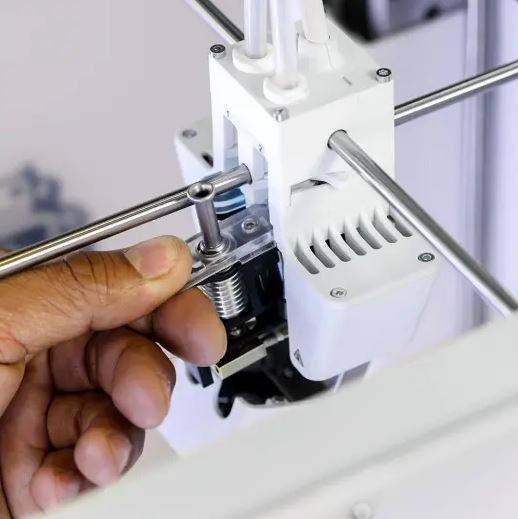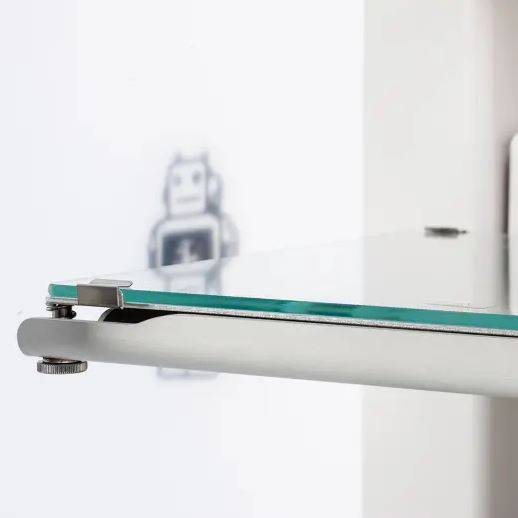 Automatically perfect first-layer adhesion
Before every print, the capacitive print head sensor probes the removable heated built plate at multiple points to find microscopic variations in its topology. The tilt angle is then compensated by adjusting the Z-height in the first layers. The result? More accurate leveling and improved build plate adhesion.
---
The Ultimaker 3 also includes:
- A USB stick, glue stick, grease, hex wrenches
- USB and Ethernet cables
- Two swappable 0.4 AA print cores
- A swappable 0.4 BB print core
- A 350 g spool of Ultimaker PLA
- A 350 g spool of Ultimaker PVA
- A spool holder with an NFC cable
- A calibration card and XY calibration sheet
- Cura, the award-winning print preparation software
- Powerful Ultimaker app
- Comprehensive 12-month warranty
---
Dual Extrusion Build Volume

(13.5 x 19.9 x 23.1 inches)

Fused filament fabrication (FFF)

Compatible Filament Diameter

0.25 mm nozzle: 150 - 60 micron

0.4 mm nozzle: 200 - 20 micron

0.8 mm nozzle: 600 - 20 micron

Dot-matrix display with click wheel

Dual extrusion print head with an auto-nozzle lifting system and swappable print cores

20 - 100 °C heated glass build plate

Operating Ambient Temperature

Non-Operating Temperature

Ultimaker Cura – print preparation software

Ultimaker Connect – printer management software

MacOS, Windows, and Linux

SolidWorks, Siemens NX, Autodesk Inventor

Ultimaker Cura: STL, OBJ, X3D, 3MF, BMP, GIF, JPG, PNG

Printable formats: G, GCODE, GCODE.gz, UFP

CE, FCC, VPAT, RoHS, REACH, CB, BIS, KC, PSE, RCM, SRRC, MIC, NCC, Safe unattended professional use

Market-leading technical support via email, phone, or from our global community is available to you in your language and timezone

Online resources, extensive manuals (in multiple languages), material technical and safety data sheets (in multiple languages), a detailed knowledge base, and much more
---
---
You can combine build and water-soluble support materials to achieve superior surface finish and complex geometries with ease. Or, use multiple colors to create a unique look without the need for paint. The print core system allows for faster material swaps and a greater ease of use. And the print core's customized internal geometry allows for cores optimized for both build and support material. This redesign allows for fewer clogs and greater reliability. Spend more time printing!


---
3D printing with Ultimaker 3D Printers is recommended in Education as a tool for:
- Enabling students at all grade levels to learn and practice the engineering design process
- Allowing students to design their ideas, "grow" them on a 3D printer, and hold them in their hands
- Providing 3D visuals as teaching aids to help students understand difficult concepts
- Inspiring STEM and hands-on learning
- Introducing students to "digital manufacturing" and "additive manufacturing technologies"
- Creating excitement among students wanting to learn with the latest industrial technologies
School purchase orders are welcome!