Robust single extrusion printing
The Ultimaker 2 Plus is everything you loved about the original Ultimaker 2, with a few new innovations to make it better than ever! With a new geared feeder, ability to swap nozzle sizes, and optimized airflow, the Ultimaker 2+ is one of the most advanced, accurate, and reliable desktop 3D printers around. Once you unbox the printer, you will be up and printing in a matter of minutes.
We are excited to be one of the few authorized US resellers of Ultimaker. Ultimaker has developed a global reputation and following for having printers that work very well and require very little tinkering. The well designed print head on this printer will quietly and accurately build your creation with an accuracy of 20 microns. This leads to a printed part with a very smooth finish without highly visible print lines. The heated bed allows you to print with a variety of materials and rarely needs to be re-calibrated. Start printing large parts today with a build volume of 9 x 9 x 8 inches. This printer comes standard with a 12 month warranty so you can rest easy and know you're covered.
---
Designed by experts and enriched by our global community, Ultimaker 2+ performs even complex 3D printing tasks with ease. It excels at printing bridging, overhangs, and accurate details. This enables you to create high-quality results, tailored to your business.
- Build volume: up to 223 x 223 x 305 mm (8.8 x 8.8 x 12 inches)
- Up to 20 micron (0.001 inch) layer resolution
- Print head travel speed: 300 mm/s
- Open filament system – print with any 2.85 mm material
- Loved around the world for its award-winning performance
Trusted to deliver high-quality results
When a part or model needs 3D printing, thousands of designers and engineers choose Ultimaker 2+ and Ultimaker 2 Extended+.
These desktop 3D printers' reliability and ease of use are thanks to the rigorous testing and development of not just the hardware, but its materials, and Ultimaker Cura material profiles. The result? A workhorse 3D printer that simply gets the job done.
Both Ultimaker 2+ series 3D printers ship with a nozzle kit containing 0.25, 0.4, 0.6, and 0.8 mm nozzles. These can be swapped quickly and easily to maintain high printer uptime. Choose a narrow nozzle diameter for high-precision detail, or a wider diameter for faster printed parts and models.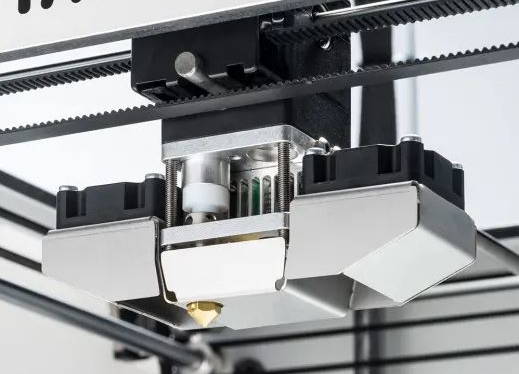 A feeder geared for greater reliability
The geared feeder in Ultimaker 2+ puts more pressure on the filament, and reduces heat exposure from the motor. This improves grip and boosts torque, which stops the filament skipping in the extruder motor. Filament can be easily removed or inserted by using the grip release button.
Enjoy greater freedom to innovate with the Ultimaker 2+ series' open filament system. Having the choice to print with almost any kind of 2.85 mm filament means you get precisely the finish and mechanical properties you're looking for.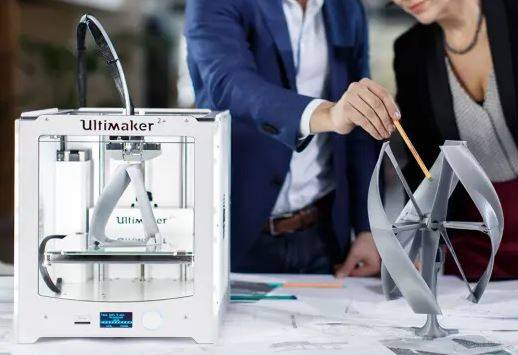 ---
3D printing with Ultimaker 3D Printers is recommended in Education as a tool for:
- Enabling students at all grade levels to learn and practice the engineering design process
- Allowing students to design their ideas, "grow" them on a 3D printer, and hold them in their hands
- Providing 3D visuals as teaching aids to help students understand difficult concepts
- Inspiring STEM and hands-on learning
- Introducing students to "digital manufacturing" and "additive manufacturing technologies"
- Creating excitement among students wanting to learn with the latest industrial technologies
School purchase orders are welcome!
---
Fused filament fabrication (FFF)

Compatible Filament Diameter

0.25 mm nozzle: 150 - 60 micron

0.4 mm nozzle: 200 - 20 micron

0.6 mm nozzle: 400 - 20 micron

0.8 mm nozzle: 600 - 20 micron

Dot-matrix display with click wheel

0.25, 0.4, 0.6, 0.8 mm (all included)

20 - 100 °C heated glass build plate

Operating Ambient Temperature

Non-Operating Temperature

100-240V / ~4A / 50-60HZ / 221w max

MacOS, Windows, and Linux

SolidWorks, Siemens NX, Autodesk Inventor

Ultimaker Cura: STL, OBJ, X3D, 3MF, BMP, GIF, JPG, PNG

CE, FCC, VPAT, RoHS, REACH, CB, BIS, KC, PSE, RCM, SRRC, MIC, NCC, Safe unattended professional use

Market-leading technical support via email, phone, or from our global community is available to you in your language and timezone.

Online resources, extensive manuals (in multiple languages), material technical and safety data sheets (in multiple languages), a detailed knowledge base, and much more.