Refurbished Beambox Compact 40W unit
Let your imagination take flight with the Beambox 40W Desktop Laser Cutter and Engraver. This powerful machine can shape, cut and engrave everything from cardboard to wood to leather, giving you the ability to easily create unique and personalized designs. With features such as a built-in HD camera, WiFi connectivity, a closed-loop water cooling system, an emergency shutoff switch and FLUX's free and intuitive software, Beambox will quickly become the MVP of your design arsenal.
From Your Biggest Ideas to Your Greatest Work
Beambox offers a maximum work area of 40 x 37.5 cm2 (15.7" x 14.7") and cuts up to 10mm thick (varies by material).
FLUX's integrated program Beam Studio makes it so your imagination is the only limit.
Friendly Software For All
Beam Studio is compatible with Windows, macOS and Linux. Its intuitive user interface allows you to easily access all the amazing features of your new Beambox.
Beam Studio enables multi-computer control and supports JPG / PNG / SVG / DXF files.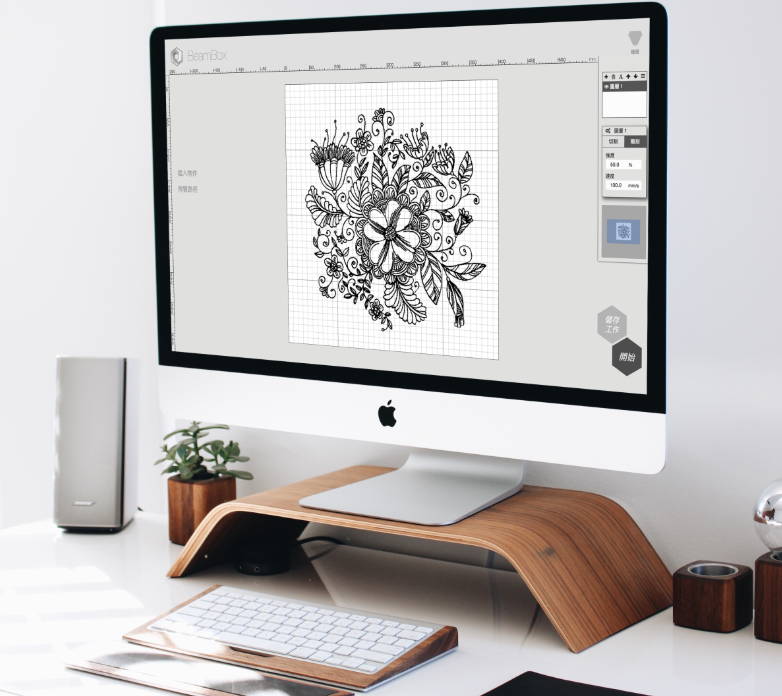 Intuitive and Ready To Use
Control and monitor your Beambox at your fingertips with the touch panel. Make sure your design is perfectly aligned using the built-in camera to preview the work area. Its compact water cooling system takes simplicity to a whole new level.
---
| | | |
| --- | --- | --- |
| | | |
| Work on your design using softwares you're familiar with, or just simply import JPG, PNG, SVG files to Beam. | Edit your files, set up cut/engrave layers, adjust laser power and speed in Beam Studio. | Preview the work area to see what the task will look like. Press Start and Beambox will bring your ideas to life. |
* With FLUX Stainless Steel Spray
Maximum thickness 12mm (varies by material)
| | |
| --- | --- |
| | |
| | |
| | |
| | |
| | |
| | |
| | |
| | |
| | |
| | |
| | |
| | |
| | |
| | |
| | |
| | 0 - 10 mm (varies by material) |
| | |
| | Vector / Graphic (monochrome, gray scale) |
| | |
| | |